CBM 128-80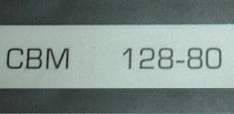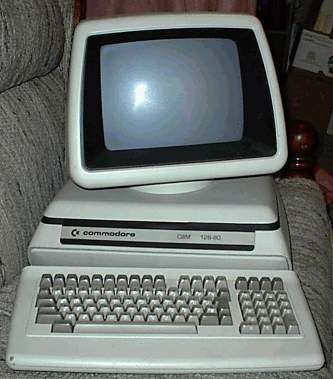 The CBM 128-80 sits at the top of the CBM-II line. The stylishly curved plastic case with detachable keyboard and built in monitor are a contrast to the rest of the CBM-II models, giving it the "High Profile" distinction.
The CBM 128-80 HP is the little brother to the CBM 256-80 HP and was known as the CBM 710 in Europe. Like the other CBM-II models, the 128-80 has a full-sized qwerty keyboard, 80 column display, Commodore BASIC 4.0, RS232-C and IEEE-488 ports, and the ability to attach an optional 8088 or Z-80 coprocessor board. The CBM 128-80 HP has 128K of banked memory, and the particular model in this collection was also lucky enough to include the 8088 coprocessor board for running MS-DOS programs. MS-DOS compatility was considered an important feature at the time, as IBM was just beginning to envelope the business computing world. This model also included a third party IEC board for using Commodore serial drives, such as the 1541
The CBM-II High profile machines, which include the CBM 128-80, 256-80, 710, and 720, could all be purchased with built-in disk drives. These drives are said to be 8050 compatible mechanisms.
Statistics, features, and CBM 128-80 resources:
CPU
MOS 6509
2 Mhz
8088 daughterboard inc
RAM
128 kilobytes
Expandable to 704k external
ROM
24 kilobytes
CBM-II Kernal
CBM Basic 4.0
Video
MOS 6545 CTRC
Monitor: 12" Monochrome display
80 columns, 25 rows
Sound
MOS 6581 SID
3 voice stereo synthesizer/digital sound capabilities
Ports
Male edge-connector IEEE-488 port
Male edge-connector CBM Datasette port
Female RS232 port
Female edge-connector CBM-II/PET-II expansion port
1 RCA audio port
Power and reset switches
Optional cable attachment with IEC serial ports.
Kyboard
Full-sized 102 key QWERTY
19 key numeric keypad!
4 direction cursor-pad