Commodore PET-II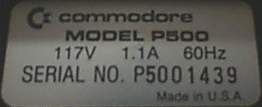 P 500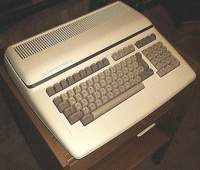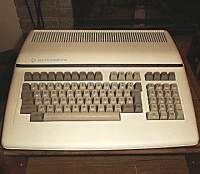 And now we come to the one and only member of the PET-II line, the P500. Part of the 1982-83 line of CBM-II ('B') machines (featuring the B5XX-B7XX computers), this was designed to be the 'P'ersonal version of their 'B'usiness computers. Fortunately, or unfortunately, the P500 never made it out of the starting gate due to a perceived market conflict with the already popular Commodore 64. Also, they were also reportedly recalled due to mismanagement by Commodore distributors and retailers.
As a computer, it resembles the low profile CBM-IIs in appearance, as well as in basic design and capabilities. The biggest difference is the existence of the VIC-II video chip (the same one in the Commodore 64) and a pair of joystick ports. A great collectors find, and I dearly hope to find time to study this machine more closely in the future.
And Speaking of those ports, here they are. From left->right, RS232, Video DIN, cassette, expansion (cartridge), Ground, Audio, Power, IEEE-488, Joystick X 2.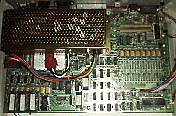 On the left, you'll see the three 8K ROM chips, just below ye olde power supply. That's not the original power supply, of course, but a 120V I "borrowed" from a spare B500. To the right, you'll see the IO chips, memory, and other fun stuff.

Inside, the motherboard resembles the CBM-II line very closely: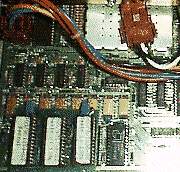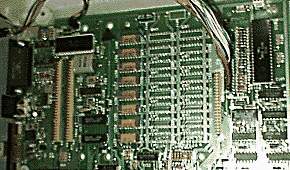 Statistics and features:
CPU
CSG 6509
1 Mhz
RAM
128 kilobytes, expandable to 720k
ROM
24 kilobytes
P500 Kernal
CBM/PET Basic 4.0
Video
CSG 6569 "VIC-II"
320 x 200 Hi-Resolution
40 columns text
Palette of 16 colors
Sound
CSG 6581 "SID"
3 voice stereo synthesizer/digital sound capabilities
Three octaves.
Ports
CSG 6551/6522
2 Joystick/Mouse ports
Male edge-connector IEEE-488 port
Male edge-connector CBM Datasette port
Female RS232 port
Round DIN CBM Monitor port
Female edge-connector CBM-II/PET-II expansion port
1 RCA audio port
Power and reset switches
Kyboard
Full-sized 102 key QWERTY
19 key numeric keypad!
4 direction cursor-pad
Personal Note:This machine came from the fabled George Page collection. Previously I kept a converted PAL P500, but this one is American through and through, so I decided to keep it instead.